Naomi Leslie's first assignment for us!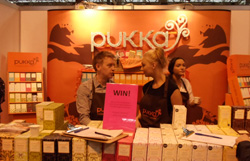 Brief; Footfall leafleting
"approach ,inform and invite to visit stand sample and buy" practicing her "positive eye contact" on The Boss Liam Tullberg of Pukka Herbal Teas! (Not the boss Naomi the Customers!!) Naomi is attending Stratford upon Avon College where she is taking a level 3 BTEC course In Media Studies and wants to become a TV Producer. We are already confident she will be a most
promising member of our team for the next 2 years.
Well Done Naomi!